Starting a business in the UAE is a challenging process, regardless of how enthusiastic, knowledgeable and well equipped an entrepreneur may be. There are many unique aspects of company formation in UAE including legal requirements, resident visas and license registrations that must be addressed before you begin to implement business operations like customer acquisition and product creation. Unfortunately, the process of acquiring a trade license can be so time consuming and confusing that many would-be startups fail to even launch.
The simple solution is to enlist the help of a company registration professional. A local specialist who will provide you with a unique insight on market research, suitable office locations, accessibility to suppliers and networking opportunities. By entrusting an experienced business setup advisor with all the legal requirements and licensing needed to start your business in the UAE, you then have time to focus on your business model.
"CREATIVE ZONE helped with all the steps along the way – not just the business side of things such as putting all the company side of things together or visas, but also the personal things such as schools and giving advice on where our children could or could not attend. I really felt it was a very balanced service and I was very happy with how everything felt so smooth and just made everything a little bit easier when moving to a new country and setting up a new business. I was really grateful to have the support of CREATIVE ZONE."
Lisa Scott-Lee
Owner and Founder – Dubai Performing Arts Academy 
A Sample of the Steps Required to Start a Business in Dubai
There are many different designations and business activities available in the UAE, from onshore to offshore and Free Zones. A business registration consultant will advise you on the most suitable scenario for your proposed business and will then assist with the required legal processes such as;
Reserve your company name by registering it at the Department of Economic Development.
Approval of the company's Memorandum of Association.
Apply for a trade license and membership of your company with the Chamber of Commerce and Industry.
Visit in person with your lawyer to apply at the Ministry of Labor.
In case of having native workers, have them registered with the Ministry of Labor for social rights and pension plans.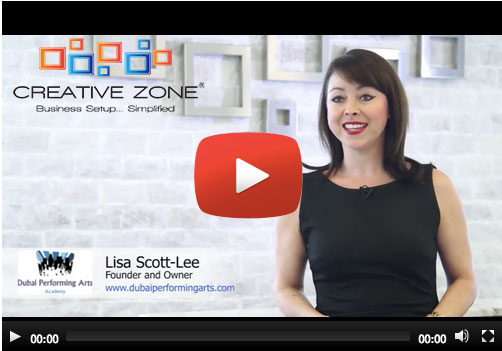 Importance of a choosing Company Registration Firm with a Dedicated Account Management Team
CREATIVE ZONE understands and appreciates the challenges and concerns Expats face when trying to incorporate or set up a new company in a country where the rules and regulations are constantly changing. It is extremely frustrating and time consuming navigating through the maze of bureaucracy and red tape. Often exacerbated by differing language and cultural beliefs. Misinterpreting information and documentation could lead to costly delays and even legal issues.
A dedicated account manager will personally guide you through the whole process and will be available to you when and if required.
Above all, CREATIVE ZONE is more than just a conventional business setup company, where a job well done isn't only measured by the speed and efficiency of getting a client's company incorporated, but also by the extent that our clients benefit from the initiatives we have in place and assisting them beyond the issuance of trade licenses!