Dubai is one of the world's largest business hubs, attracting thousands of entrepreneurs and foreign investors from across the globe to set up their businesses. Starting a new company in Dubai is a lucrative proposition, but the registration and licensing process can become hectic, time-consuming, and stressful for entrepreneurs. So, how would you feel if you could get all the paperwork done within a few minutes? The one day DED License is one such initiative that makes it easy for entrepreneurs to set up their business activities in far less time than before. Let us find out how from Romell Gumbs, the business setup expert at Creative Zone.
Q1) What is the New DED One Day License?
The Dubai Economic Department (DED) has made new business setups in Dubai as quick and easy as finishing a cup of coffee! The one day license was launched with the sole purpose of easing the complexities and formalities that usually took close to 15 – 20 days in order to complete.
The same day license was started with a vision to provide enhanced customer experience and transform all government department service outlets across Dubai into customer happiness centres.
What is even better is the fact that this service can be availed from Creative Zone's Downtown office located at Boulevard Plaza. The team from DED have their desk at Creative Zone office to assist clients with approvals, documentation, registration, and licensing formalities and hand over the trade license within the hour.
Q2) How does it Benefit Entrepreneurs?
For the benefit of new entrepreneurs, this new license offers the following DED services in 15 minutes:
Trade Name and Initial Approval
Notary Signing
Final Payment Voucher
New Company Registration Papers
Business Trade Licence
Please Note
All required documents must be ready
No special approval on the trade names or activities is required
No external approvals are required for the activities
No commitment approvals needed for the shareholders
Q3) How will Creative Zone Assist
Creative Zone has now developed a dedicated kiosk at their office in Downtown exclusive to DED clients, where one can get all the above done within minutes and under the reliable guidance of our setup experts. The services will also provide:
Co-Working Space: Entrepreneurs and start-ups can utilise the co-working space available at our business hub.
Dedicated Office Spaces: The business centre also offers serviced office space, desk space, and meeting rooms at rates that are lower than the market price. Whether you are looking to book a meeting room for a VIP meeting for a day or wish to rent a desk or office space for a month, there are special packages available that offer greater flexibility.
Virtual Office Package: The virtual office package, starting from Dh500 a month, offers benefits like a dedicated receptionist (to greet phone callers in your company name and then transfer the call according to your instructions), high-speed Wi-Fi connection in co-working lounges, and complimentary access to meeting rooms and office facilities.
No Hidden Costs: There are no hidden costs when you apply for your trade license or avail of any other DED service at our DED hub.
Latest Technology: The DED hub features advanced technology that provides easy access to business licensing and registration services.
Qualified & Trained Staff: The well-qualified and trained service advisors at our hub provide complete assistance to business owners.
Comfort & Convenience: Business owners can have their transactions completed quickly over a cup of coffee or from the comfort of their cars.
About the Author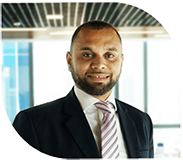 Romell's empathy and sincerity towards clients have won many hearts. He is quick in response and keeps it transparent. Romell's firm grasp and knowledge on various Dubai's jurisdictions have made Romell the go-to advisor when it comes to any type of business consultation.
If you need more information about the prevailing DED laws, requirements, and procedures contact Creative Zone or Call 800 LICENSE (5423673) to speak to one of our Business Setup Advisors today!