State of Global Affairs: Economy, Business, Investments, and more
The year 2020 has been nothing short of a roller-coaster ride for businesses, investors and countries at large. With the first quarter of 2021 behind us, leaders and entrepreneurs are making imminent changes in preparing their employees and organisations for a dramatically changed future.
Join us for an exclusive webinar with Vusi Thembekwayo and Paulo Do Carmo as they discuss how leaders should respond to the destabilised market conditions & reposition their teams for competitive advantage, the best bets for investors, examining the likely short-term trajectory for the global economy and consider some of the key lasting global changes that the pandemic may have triggered.
Paulo Do Carmo
Founder, Shushka Media
Paulo is an experienced Chief Executive Officer with a demonstrated history of working in the Telecommunications, Gaming, Property and FinTech industries. Skilled in Negotiation, Business Planning, Customer Service, Advertising, and Entrepreneurship - Paulo is a strong business development professional graduated from Massachusetts Institute of Technology, Informa and The University of the Witwatersrand.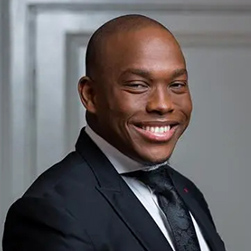 Vusi Thembekwayo
Venture Capitalist
Vusi Thembekwayo is a world-renowned South African entrepreneur, public speaker and venture capitalist. Vusi is best known as one of the 'dragons' in the South African version of Dragons Den. Dragons Den was a DSTV Mzansi Magic reality show in which entrepreneurs pitched their ideas to a group of investors with hopes for investment in their businesses. Vusi Thembekwayo has invested in many businesses and is regarded as one of the richest South Africans under 35. His talks empower his audience with new knowledge, research findings, and tools to immediately apply in their businesses or careers to achieve "step-change" results. At 25, Vusi ran a R400mn division in a R17bn multi-national and today is widely regarded as one of the most disruptive forces in venture capital in Africa. Vusi was amongst the youngest directors of a listed in South Africa and now serves on several boards. Currently, Vusi is the CEO of a boutique investment & advisory firm in Africa. Leading by example, his firm forces medium, large and listed businesses into much needed and lucrative new directions. Having graced the covers of Entrepreneur Magazine, with features on Forbes and Inc500, Vusi's social media engagement often mirrors that of a Rockstar.