Dubai Residency for Global Entrepreneurs
Did you know that Dubai is the only city in the Middle East to rank among the top cities for entrepreneurs in the world?
Dubai's status as the safe haven of the region has always been a major puller for today's Global Entrepreneurs, topping it off is Dubai's entrepreneur-friendly business landscape, a high-income economy, excellent healthcare system, an international commercial and luxury hub, top-end and lavish villas and apartments, some of the biggest shopping malls of the world and the best international board schools.
The recent introduction of financial regulations and reforms in the last few years, coupled with its handling of the coronavirus crisis, has helped make the UAE a "model country" for people to live, work and invest in.
Learn more about surviving and thriving your business, in the post-pandemic era, from none other than the global firebrand, Vusi Thembekwayo, South African venture capitalist, entrepreneur and Founding CEO of MyGrowth Fund Venture Partners & IC Knowledge Bureau, in an exclusive webinar on the business opportunities available to global entrepreneurs in Dubai and the UAE.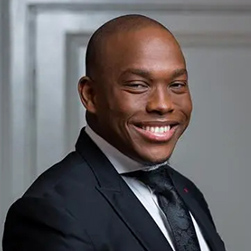 Vusi Thembekwayo
Venture Capitalist
Vusi Thembekwayo is a world-renowned South African entrepreneur, public speaker and venture capitalist. Vusi is best known as one of the 'dragons' in the South African version of Dragons Den. Dragons Den was a DSTV Mzansi Magic reality show in which entrepreneurs pitched their ideas to a group of investors with hopes for investment in their businesses. Vusi Thembekwayo has invested in many businesses and is regarded as one of the richest South Africans under 35. His talks empower his audience with new knowledge, research findings, and tools to immediately apply in their businesses or careers to achieve "step-change" results. At 25, Vusi ran a R400mn division in a R17bn multi-national and today is widely regarded as one of the most disruptive forces in venture capital in Africa. Vusi was amongst the youngest directors of a listed in South Africa and now serves on several boards. Currently, Vusi is the CEO of a boutique investment & advisory firm in Africa. Leading by example, his firm forces medium, large and listed businesses into much needed and lucrative new directions. Having graced the covers of Entrepreneur Magazine, with features on Forbes and Inc500, Vusi's social media engagement often mirrors that of a Rockstar.