Become a Nomad Entrepreneur with Vusi Thembekwayo
Expanding horizons for Global Businesses
In the changed world we live in, there has arguably never been a better time to become a Nomad Entrepreneur!
Today's Nomad Entrepreneurs are location-independent professionals who have the flexibility to operate from anywhere in the world and provide their customers with desired products and services at the tip of their fingers, anytime they want. This fast-growing breed of entrepreneurs is giving traditional forms of business a run for their money.
Learn more about surviving and thriving your business, in the post-pandemic era, from none another than the global firebrand – Mr. Vusi Thembekwayo – South African venture capitalist, entrepreneur and Founding CEO of MyGrowth Fund Venture Partners & IC Knowledge Bureau, in an exclusive webinar on the business opportunities available to global entrepreneurs in Dubai and the UAE.
About Creative Zone
UAE is one of the most sought-after business, financial, cultural, and social hubs of the world. The country is rapidly taking the lead in becoming the best financial and commercial global hub the world has ever seen and was ranked 16th by the World Bank in the Ease of doing Business.
Creative Zone offers complete end-to-end solutions including arrangement of visit visas, registration of your company, obtaining a 3 years residence visa for you and your family, assistance in opening bank accounts and any other personal requirements that would help you settle down in the UAE.
Make the right choice by investing in the right place at the right time – UAE, make your dreams a reality!
Topics of Discussion
08:00PM

-

09:00PM

Staying fluid and flexible for change
Adapting to Covid-19 affected markets
Best jurisdiction to operate from
Cutting cost, staying competitive and remaining relevant
Exploring new frontiers for expanding your business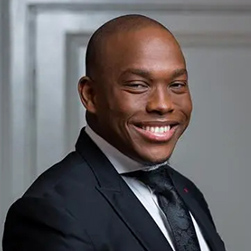 Vusi Thembekwayo
Venture Capitalist
Vusi Thembekwayo is a world-renowned South African entrepreneur, public speaker and venture capitalist. Vusi is best known as one of the 'dragons' in the South African version of Dragons Den. Dragons Den was a DSTV Mzansi Magic reality show in which entrepreneurs pitched their ideas to a group of investors with hopes for investment in their businesses. Vusi Thembekwayo has invested in many businesses and is regarded as one of the richest South Africans under 35. His talks empower his audience with new knowledge, research findings, and tools to immediately apply in their businesses or careers to achieve "step-change" results. At 25, Vusi ran a R400mn division in a R17bn multi-national and today is widely regarded as one of the most disruptive forces in venture capital in Africa. Vusi was amongst the youngest directors of a listed in South Africa and now serves on several boards. Currently, Vusi is the CEO of a boutique investment & advisory firm in Africa. Leading by example, his firm forces medium, large and listed businesses into much needed and lucrative new directions. Having graced the covers of Entrepreneur Magazine, with features on Forbes and Inc500, Vusi's social media engagement often mirrors that of a Rockstar.