Work from the Heart of Dubai
CREATIVE ZONE Business Hub delivers an unrivaled level of business and office solutions, including state-of-the-art office facilities and personalised customer support. Exclusively located prestigious offices complimented with a wide range of concierge services to help our clients manage their operations successfully.
Our range of services not only include fully furnished, modern, and serviced offices, but also coworking spaces and meeting rooms. CREATIVE ZONE Business Hub, in addition, offers a spacious events area for workshops and networking events.
Services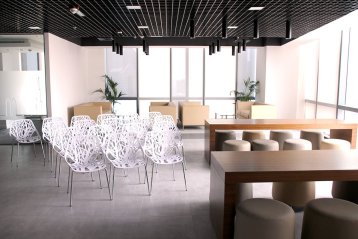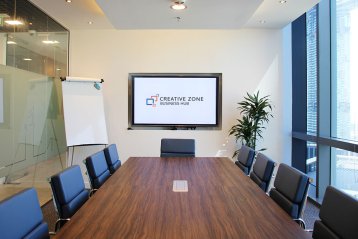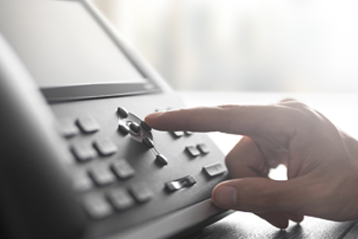 Why choose us?






"
My Experience with CREATIVE ZONE Business Hub - "I want to thank CREATIVE ZONE Business Hub, so much for organising our Business Hub package. It's such a good set up with every aspect that we needed covered. The team were super helpful and really appreciated the time spent organizing our internet queries, setting us up on Go to Meetings, business support and dedicated help. - It is such a good working atmosphere and really helps you focus into your work in light, airy surroundings. When you work on your own as we do so often, it was great being back in an office environment to stimulate the mind. Plus the coffee and the services are great. Thank you for taking such good care of us all of you." - About DR Global Design - DR Global design, unique and inspiring Spa and Wellness spaces either for businesses, such as hotels, resorts or for private individuals. Offering tailor made Wellness solutions, treatments and facilities based on a wealth of combined knowledge of their team.
"
My Experience with CREATIVE ZONE Business Hub"The whole team at CREATIVE ZONE Business Hub were more than happy to help with any request and made the networking event run very smoothly. The venue worked perfectly for our workshop and we received great feedback from attendees, stating how good the Business Hub and atmosphere was. Excellent meeting room facilities, venue easy to find and easily accessible from Dubai Mall metro walk, great venue and catering offered. Above all, I would certainly be using the CREATIVE ZONE Business Hub again for future workshops. I hope that we get to work together again very soon"About Maxsale SolutionsMaxsale solutions package consulting, sales software and sales training into affordable, results oriented, fixed price programmes, until real time improvements are delivered. The return on your investment will be discussed and agreed, before any work commences.
Reach us
 CREATIVE ZONE Business Hub
Suite 1702, Level 17, Boulevard Plaza Tower 1
Sheikh Mohammed Bin Rashid Boulevard
Downtown Dubai, Dubai, UAE.
 info@czbusinesshub.ae