To be successful in business, you have to start with a skill, a passion, and an idea that you can shape into a viable business model.
Apollo Perelini is a perfect example of all of these components. A former Samoan dual-code international rugby player, head trainer, and sports director, Apollo created the first rugby skills academy in the United Arab Emirates (UAE) in 2011.
He founded the Apollo Perelini Rugby Skills Academy (APRSA) through CREATIVE ZONE and has been a pivotal influencer in the country's rugby landscape ever since. APRSA is a product of Apollo's collective knowledge of the sport paired with his passion and sharp business acumen.
APRSA delivers goal-oriented programmes designed for rugby players of all levels and abilities. He established the academy with the aim to provide fundamental rugby skills at every age and ability level. APRSA also offers interactive and practical coaching and team building programmes for adults.
To aid with APRSA's establishment, Apollo sought out the expertise of CREATIVE ZONE. APRSA was initially incorporated with a Free Zone trade license and then transitioned to a Dubai Department of Economic Development (DED) license. The transition was pivotal to the increasing demand for rugby skills training, allowing the academy to operate throughout the UAE.
CREATIVE ZONE has been very much a part of Apollo's business growth since inception. Apollo's dedicated account management team have witnessed firsthand the transition from startup to the industry leader with an enviable reputation that APRSA commands today.
While the academy allows Apollo to share his rugby skills and passion for the game with an enthusiastic audience, he is also a fantastic role model to aspiring would-be entrepreneurs.  Especially those with a professional sports background.  Apollo became a successful entrepreneur who has proven that by merely capitalising on his own talents, and knowledge, business success is as achievable as a coveted championship win. 
Our interview with Apollo provides insights into the unique programmes of the academy as well as how he started growing the first rugby skills academy in the country.
Find out how CREATIVE ZONE's professional services helped Apollo in company formation and how CREATIVE ZONE's lifetime business support continues to add value to the success of the academy.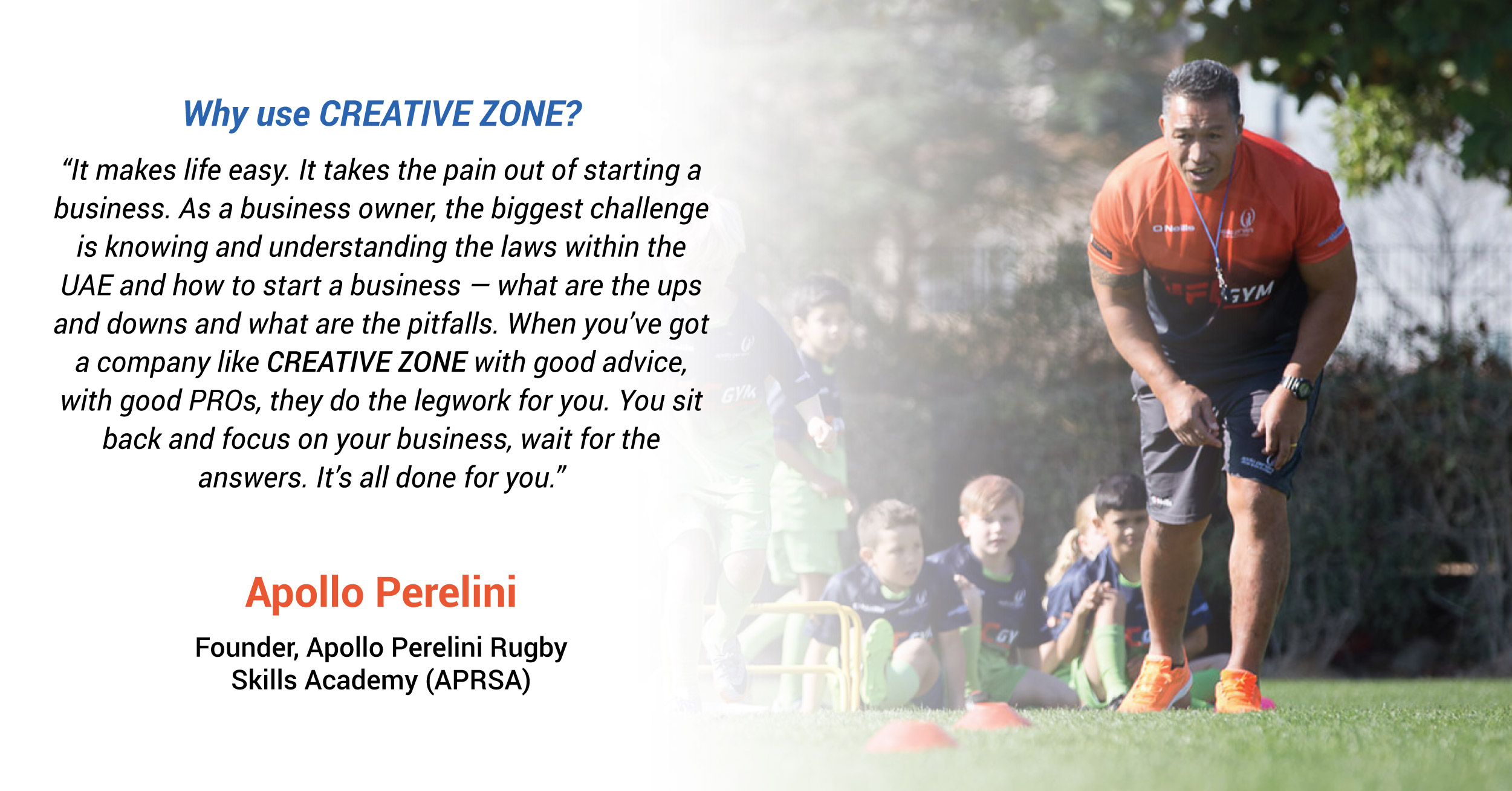 CZ: What makes the academy unique and what sets it apart from your competition? 
Apollo: The uniqueness of our academy has always been the curriculum that we run. We have a curriculum-based skills academy, which is based on the learning of different set of skills for the kids that we coach. And also, we specialise from the ages of five all the way to 18 and we progress them through the various fundamental skills of rugby. 
CZ: What is the future for your business – possible expansion with more academies, locally or overseas, or new services?
Apollo: We've grown over the last seven years. We've gone from just being an academy. Now we are widespread throughout Dubai working in schools. We've got twelve schools at the moment that we work with. We're looking at different products—working with individuals and working with companies, providing some company-based rugby skills, which are more on team-building.
CZ: What's the greatest motivation you impart to the players and coaches?
Apollo: That they believe in themselves.  One of the biggest motivations for us is that we see kids who have little knowledge and ability as they progress to being really good and excellent players by the time they leave our programme. It's all about empowering kids to believe in themselves. Set goals and go through the process to achieve those goals. 
CZ: You have been with CREATIVE ZONE for how many years now? As your business has grown, how has CREATIVE ZONE helped you?
Apollo: We've been with CREATIVE ZONE for seven years. Originally, when I wanted to start the company, I sought the advice of CREATIVE ZONE. We've been very, very fortunate to have some good advice from Jigar Sagar (Managing Director, CREATIVE ZONE Group) who's one of the key advisors for CREATIVE ZONE. We started off with a Free Zone trade license for the first two and a half years and then we moved into a DED (Dubai Department of Economic Development) license, which would enable us to work more widely across Dubai.
CZ: What are some of the challenges you have encountered as a business owner in the UAE and how has CREATIVE ZONE helped you?
Apollo: The challenge is that there's always law changes, visa requirements, and all these different laws that are constantly evolving—changing for the good because it's an ever-evolving country. But the great thing is when you've got advisors and PROs who provide the service you require, you don't have to ask so much. They already know what you require and the services of CREATIVE ZONE have always been there to advise us in a great way. 
CZ: What's the one thing about CREATIVE ZONE that you appreciate the most?
Apollo: Service. We've had a relationship for seven years.  We've been with them and we know some of the advisors and the PROs personally. We know them by name. We can pick up the phone and call them even if it's just for a simple advice. They are always free and helpful to give us advice.
CZ: If you would recommend CREATIVE ZONE to your friends or anyone who is planning of setting up a company, what would you tell them?
Apollo: I'll tell them that it makes life easy. It takes the pain out of starting a business. As a business owner, the biggest challenge is knowing and understanding the laws within the UAE and how to start a business—what are the ups and downs and what are the pitfalls. When you've got a company like CREATIVE ZONE with good advice, with good PROs, they do the legwork for you. You sit back and focus on your business, wait for the answers. It's all done for you.
CZ: What is the number one tip you would give an aspiring entrepreneur?
Apollo: Find what you love, what you're passionate about. Then go and seek advice from companies like CREATIVE ZONE who have really, really good business advisors who know what works. They know all the ins and outs of the laws of the UAE and make things easy for you.