Alistair Paine, Business Setup Manager at Creative Zone explains in detail, the step by step procedure of setting up a DED Mainland Company.
A successful business warrants several components, over and above one's passion towards the product or service they are selling. The region one chooses to setup their business is a critical factor that may sway one's venture in either direction. Over the last many decades, Dubai has emerged as an inevitable region for entrepreneurs seeking to establish a strong foothold in the Middle East and beyond. With its liberal economic policies, double tax treaties with most of the countries in the world, modest corporate tax rates, opulent infrastructure, and trade route accessibility, Dubai has become a preferred location for corporates and entrepreneurs looking to set up a business in Asia.
However, setting up a business in Dubai can be a rewarding experience, but the logistics and the legal formalities can be overwhelming and time-consuming. The points below will serve as your comprehensive guide to setup the business in Dubai.
Choose a Business Activity
The nature of your business will determine the kind of license one will require. There typically four types of business licenses in Dubai
Commercial License for general trading business
Professional license for service rendering business
Industrial license for manufacturing goods
Tourism license for travel and tours sector
Department of Economic Development is the license issuing authority and regulates all the legal activities pertaining to establishing a business in Dubai.
Pick a Jurisdiction
Deciding in which part of the city to setup a business should also be considered wisely. The UAE has three different types of jurisdiction- Mainland or Onshore, Free Zone, and Offshore. The Mainland company setup allows one to do business in the local market as well as outside UAE without any restriction. The Free Zones are located in a specifically allotted area within the Emirates and are allowed to carry out business activities within that region or outside the UAE. An offshore company is the one established in another jurisdiction while its parent corporation in another country. This is not a branch company since there is no physical office that is required. They are not physically present in the country that they choose to be registered as an offshore company.
Choose a Business Structure
Dubai offers various kinds of business structures for entrepreneurs to choose from. Depending upon the nature of your business and its location select a structure, there are certain rules regarding the make-up of one's firm, for instance, if one plans on starting a legal consultancy firm, this can be done only as a branch of the company or as a stand-alone company.
Types of business structures offered in Dubai are;
Sole Proprietorship
Joint Venture
Public Shareholding Company
Private Shareholding Company
Limited Liability Company
General Partnership
Partnership en Commendam
Professional Company
Register the Company's Name with DED
Decide on a business name that does match any other company's in Dubai; the name will not be accepted if it does. After the name is approved, register it with DED, it usually takes 3 days to register it and is valid for a period of 6 months.
Approval on the Business Activity
There are a few commercial activities that are not permissible according to the DED law. According to Law No. 13 of 2011, DED is the accountable body to decide, regulate, classify, permit and license all the economic activities. However, this is not applied to free zones and offshore business setups.
Get an Office Space
Only required if the business is located in the mainland. The tenancy agreement, Real Estate Regulation Authority (RERA) documents, and EJARI need to be submitted, following which the initial approval is granted by the DED. Creative zone offers innovative co-working office spaces for its clients at a nominal cost.
Get an Initial Approval from DED
This is an initial consent given by DED to register the company, it can be acquired by filling an application form and attaching the supporting documents and submitting them to the authority. You can start your business at this stage and continue with the process of acquiring your trade license.
Prepare a Memorandum of Association (MOA) and Article of Association
This is a significant document that should be error-free and drafted carefully, it specifies the share of limitations and liberty every partner has within the company, while the article of Association or LSA describes the role of the agent and fulfils the compliance that will be performed. MOA/LSA are the legal documents and should be drafted with the help of a legal advisor. They also need to be translated in Arabic.
Register your Business
This is one of the final steps in setting up your business. Fill the application form of registration, once it's duly filled and the required documents attached, submit it to DED for approval. Notification of approval/disproval comes within a week.
Apply for Business License
Once the registration is done, the business license will be processed and are provided mainly depending on the nature of the business activity and the jurisdiction of the business. It takes around one week or more to get the trade license from the time you receive your initial approval.
Pay Fees and Collect the License
A payment voucher will be provided by DED once you fill the license form and send the documents. The final payment needs to be made to collect the business trade license. Once you collect your trade license, you become a full-fledged business entity.
Documents Required to Start a Business in Dubai
Here is the general list of documents and certifications that are required for business setup in Dubai.
License Application
Attested LLC Agreement
Governmental Forms
Name Reservation Certificate
Initial Approval Certificate
External Departments Approval
Tenancy Contract
EJARI Registration Certificate
Passport Copies Partners and NOC for Partners (if any)
Dubai Chamber of Commerce and Industry Registration
The process of setting up a business in Dubai like any other place in the world is complex with several legal formalities, numerous documents, multilayered company structures, selecting the correct licenses and much more, getting a professional counsel is always advised. Creative zone believes that business set up is just the beginning and to assist the entrepreneurs in making the right choices, our business wings are strategically designed to get you the expert opinion and service in every area of the business, right from Tax and Accounting, Concierge, Banking, Insurance, Getting a trustworthy Local Sponsor/Service Agent to even providing an office space we remain your partners in this long journey.
About the Author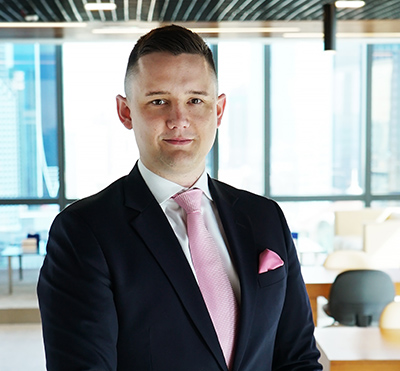 Alistair Paine is the Business Setup Manager at Creative Zone, he is an expert on company formation in Dubai Mainland and has advised over 1,000 companies in successfully launching their business in Dubai. Alistair also holds extensive experience in company structuring, offshore SPV creation, providing risk mitigation solutions to entrepreneurs, SMEs and large corporations establishing or expanding their presence here in the UAE.
If you are looking to setup your Dubai Mainland Company, please contact Creative Zone or email[email protected]