In Business, timeliness and efficiency leads to high customer satisfaction
CREATIVE ZONE client Lindsey Fournie, co-founder of Be Bar Blow Dry Bar, shares her experience of setting up a DED License and launching her business with the help of the CREATIVE ZONE team.
Planning to start a business and not knowing where to begin is perhaps the most daunting part of becoming an entrepreneur. The worst case scenario is when entrepreneurs take the wrong step from the outset and are then caught in less than satisfactory circumstances and experience poor customer service as a consequence.
If you heed professional advice and seek the right people to assist with the entire business setup process, you will have peace of mind to focus and grow your business.  Such is the case of Lindsey, a one-time budding entrepreneur and now successful business owner.
For Lindsey, her time spent on her business is valuable, and as a CREATIVE ZONE client, this has allowed her time to focus on running her business worry-free. CREATIVE ZONE's commitment to providing outstanding customer service, coupled with reliable and precise account management, made Lindsey's journey so much smoother. Lindsey experienced fast and professional assistance during the transition from a Professional License to an LLC. CREATIVE ZONE provided Lindsey with all forms, process flowcharts, timelines, and vital information about setting up a mainland company under the Dubai Department of Economic Development (DED). 
Today, Be Bar Blow Dry Bar—a DED Licensed company located in Jumeirah, Dubai —is in full operation as a unique hair health and styling salon that houses highly-skilled hairstylists. The DED License gave Lindsey the ability to find the most suitable location for her business anywhere in the UAE, and the flexibility of future expansion. Choosing the best location was key to attracting the right target, the right market, and achieving future success.
We interviewed Lindsey of Be Bar Blow Dry Bar to gain a first-hand account of her customer service journey with CREATIVE ZONE.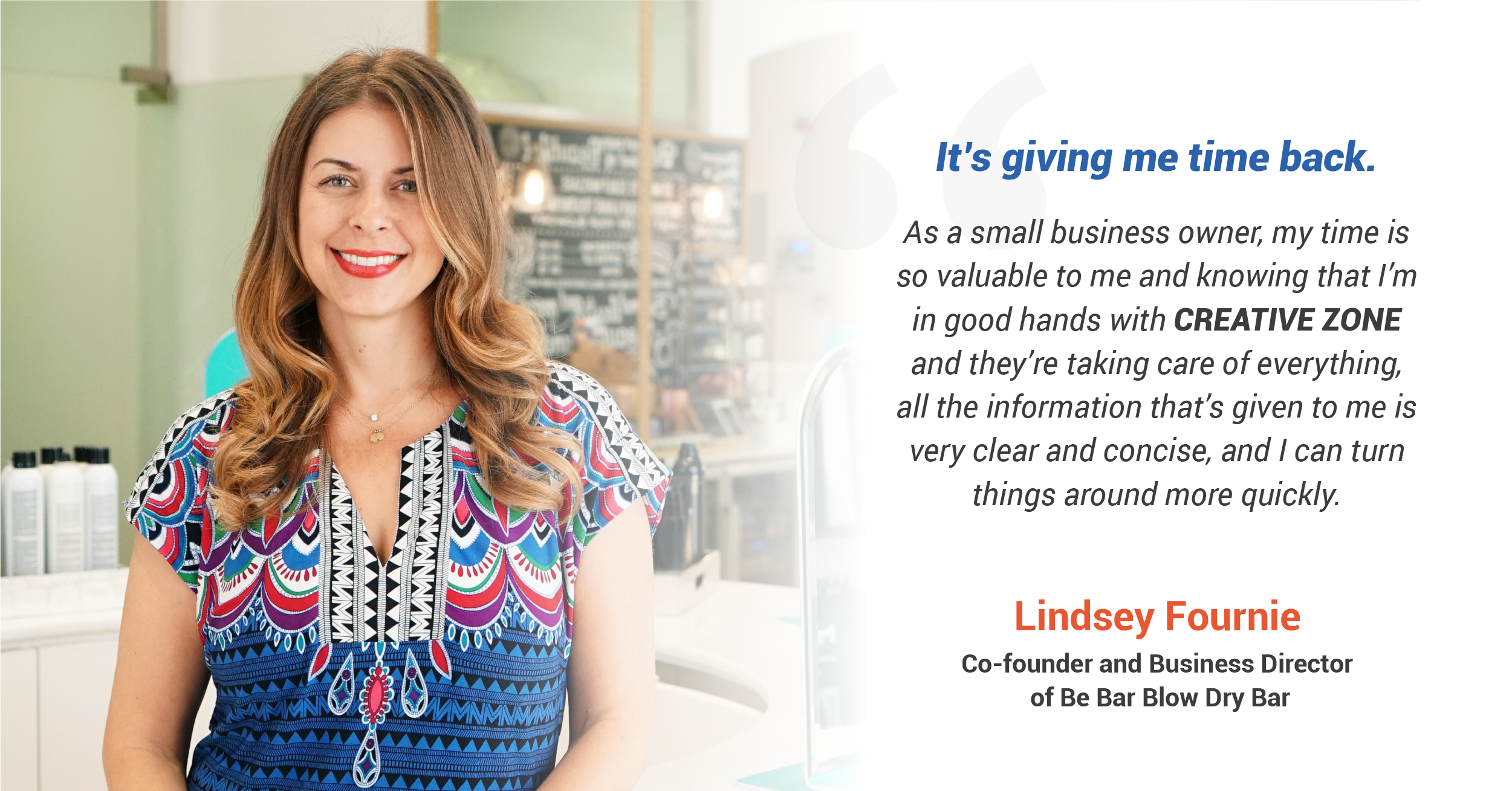 CZ: What makes your business unique and what sets it apart from your competition?
Lindsey Fournie: As everyone knows, there are tons of salons in Dubai, but we've really tried to create something that is different from all the other places. And I think one of those big differences is that we focus on several services and we don't do all of the services that are available in some of the other salons. But what we do, though, we try to do it exceptionally well, so we focus in hair health and styling. We do treatments, blow-dries, updos, braids, and bridals. We're basically your one-stop shop for getting your hair best conditioned possible and making it look great on a daily basis.
CZ: What is the future for your business – possible expansion with more salons, locally or overseas, or new services?
Lindsey Fournie: We've been open for about four years now and we are looking at expansion. We're looking to open a couple more locations in the coming years. We don't have quite our timeline nailed down yet but that's definitely in the works.
CZ: Can you walk us through your overall experience with CREATIVE ZONE from the start with the business setup advisors to completing your documentation and securing visas for your staff. 
Lindsey Fournie: Great. This is something I'm really excited to talk about because it's been something that I've really noticed different working with CREATIVE ZONE versus the previous company that was helping me with my business setup. I worked with a small PRO service, we've been open for four years. Although CREATIVE ZONE didn't help with my initial setup, they've helped me transition my license type from a Professional License to an LLC, which is something that I needed to do now after four years of being open.
 I worked with a small PRO service before and I found that I really had to do a lot of the work in a time that there were a lot of changes especially right now that the business climate is very dynamic. There are always new regulations, new rules, and fees coming up from the government, and I felt that previously, I was the one who has to keep track of all that and inform my PRO about it.
I had to be really on top of the steps for every process, which is taking a lot of my time, and I found the complete opposite, so far, in working with CREATIVE ZONE. The license change, I thought, it's going to be a very time and labour sensitive process for me.  But Brian, whom I've been working with at CREATIVE ZONE, has been so helpful in answering all of my questions and he's been accessible. When he doesn't have an answer, he gets back to me very quickly with a reply and the process has been super easy. They had me show up one time for signing of something and then they took care of everything else. It just made my life a whole lot easier and when you own and operate a small business, your time is probably one of the most valuable things that you have. So to have someone give you back some of your time, it's been really great.
CZ: What were your initial concerns about setting up a business in the UAE and were all these concerns addressed satisfactorily by CREATIVE ZONE?
Lindsey Fournie: We've been operating for a while now so I don't have so many concerns right now about setting up, but we were at a point in our business where we needed to change from a Professional License, which does not require a local shareholding; to an LLC, which does still require a local shareholding. For a small business owner, that's something that's really scary to think about given, even if it's just on paper, a majority of shareholding percentage over to someone else. CREATIVE ZONE has really helped ease that nervousness. I'm comfortable that I'm being covered; my risks are being covered in that area.
CZ: Setting up a business is a lot of work. How did CREATIVE ZONE make the whole process easy for you?
Lindsey Fournie: As I said before, Brian has been really helpful. I think one of the things I've been really impressed with was when I asked him to send me a list of documents that I need or the process. There are already forms and process flow charts that CREATIVE ZONE already has together. So they just quickly sent me a link and I have a one-pager of everything I need to get together, and the timeline that's going to take and the cost for everything. That was something that I was doing a lot of research and work on before and kept following up with my previous PRO. And it's something that, so far, CREATIVE ZONE was able to give me the information; I send it back, and the turnaround time has been super fast. It saved me a lot of time.
CZ: What's the one thing about CREATIVE ZONE that you appreciate the most?
Lindsey Fournie: It's giving me time back. As a small business owner, my time is so valuable to me and knowing that I'm in good hands with CREATIVE ZONE and they're taking care of everything. All the information that's given to me is very clear and concise, and I can turn things around more quickly. This is in order to avoid penalties for visa overruns because I know the turnarounds of things really quite. We were really suffering with that before with my previous PRO.
CZ: Have you achieved your target goals using CREATIVE ZONE's services and what were the key benefits of becoming a CREATIVE ZONE client?
Lindsey Fournie: One of the things, we're at a point in our business where we needed to go from a Professional License to an LLC and that's been something that has made me a little bit nervous. But CREATIVE ZONE made the process really simple and made my life easier in the process of running my business that's been fulfilled.

CZ: If you would recommend CREATIVE ZONE to your friends or anyone who is planning of setting up a company, what would you tell them?
Lindsey Fournie: I would tell them definitely reach out to CREATIVE ZONE. They were able to answer my questions. I actually had meetings with various representatives of CREATIVE ZONE over like a 6-month period to understand the process and everyone was always very helpful in answering my questions even though I wasn't actually ready to engage at that moment and they never made me feel bad about asking questions and getting all the information. And then when I was ready to make the change, they picked right up where the last discussion left off and turned around the process within a matter of a week, which was really great.
CZ: Do you see yourself working with CREATIVE ZONE again? 
Lindsey Fournie: Hopefully as our business grows, we have an opportunity to continue, to hire more employees and add branches under our trade license. Let's hope so.
CZ: What is the number one tip you would give an aspiring entrepreneur?
Lindsey Fournie: A tip that I would give to people that are looking to open a business in Dubai is don't be afraid of all the complicated processes for doing things. I feel like sometimes when you go to a government agency here you get lots of different answers for things. And so it is really important to find resources that have answers. Someone like CREATIVE ZONE for business setup.
That would be my number one advice, find, seek out resources that have the right answers and don't be intimidated by the complex environment. Don't let that keep you from going after your dreams.
CZ: And finally, would you be interested in providing your fellow CZ business clients a special discount or value-add?
Lindsey Fournie: Yes, I'd love to get some fellow CREATIVE ZONE business owners in here and we would like to offer AED 50 off towards any new client coming in for the first time here.
CREATIVE ZONE specialises in mainland company formation under the Dubai Department of Economic Development (DED). It provides comprehensive business supports that entrepreneurs require for their specific business activities. Talk to one of CREATIVE ZONE's Business Setup Advisors to jumpstart your business.
Call +971 4 567 7333 to get free consultations.