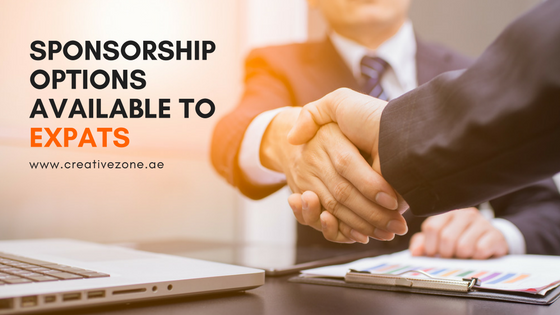 Are you considering setting up a Mainland company in Dubai?
Opening a Mainland business in the UAE requires a local sponsor and for some investors, this can present a challenge to starting up a company. The Gulf legislation only allows partial ownership to foreign businesspeople where 51% of the share goes to the local sponsor and 49% to the Expat.
It is important for a foreign investor to learn about the different types of sponsorship available and the rules, implications and advantages for each.
What Sponsorship options are available to Expats?
Corporate Sponsorship
Individual Sponsorship
Local Service Agent
Why is Corporate Sponsorship such a good option for Expats?
Quite simply, the sponsorship is treated at arm's length, providing an Expat investor with greater peace of mind.  Essentially, a company will sponsor the business rather an individual. This is applicable if you are setting up a Limited Liability Company, Trading Company or a Manufacturing Company.
CREATIVE ZONE has successfully incorporated such entities in the UAE for several years. Our seamless Mainland company formation process ensures our clients both a cost effective and stress-free experience.  We provide a UAE Corporate Sponsor as a Nominee partner in your new business, coupled with dedicated account management.  Our experienced DED management team are highly proficient with the preparation all relevant legal agreements pertaining to the Incorporation process.
Benefits of Corporate Sponsorship:
No emotional relationship to deal with. As a foreign company, you comply with the UAE Companies Law and you deal with a corporate entity with structured board and power of attorney rather than a local individual.
Transparency in the corporate governance perspective is one of the benefits the foreign part can have as companies commonly worry about coming into the market and in selecting a local partner. No need to worry about what would happen if the local partner dies or changes his mind. With corporate entity, it gives more rigidity to the arrangement compared to a local partner.
Why choose CREATIVE ZONE as your Corporate Sponsor?
We are a team of company registration professionals who are passionate about bringing the dreams of aspiring entrepreneurs and SME's to life. We believe in providing you not only with your company's documentation, but also equipping you with the necessary tools to promote, develop and grow your business. We are a business setup company with a difference – our work doesn't end with the issuance of your trade license & residency visa – it starts there!
Complete transparency in terms of costs, timelines and documentary requirements
Consultations offered free of charge, designed to give you unbiased advice on how to set up your company
An "open-door" policy for all of our clients so that you can approach us with any difficulties or issues you may face along the way
Team of over 105 highly qualified professionals who speak 12 different languages and possess several years of experience in the UAE company setup industry
Over 5,000 companies set up through CREATIVE ZONE since our inception in 2010
Over 56% of our new companies are referred to us by our existing clients
Dedicated Account Manager to handle all of your company documentation and keep you up to date on the incorporation process
Access to exclusive networking platform, ned to connect you to prospective customers, allowing you to grow your new business
CREATIVE ZONE are the largest and most trusted business setup advisory in Dubai
There are a number of things to consider when setting up any business in the UAE mainland. If you would like to learn more about sponsorships, talk to one of our Business Setup Advisors.  Our team are well versed in the process of starting up a Dubai Mainland company and will advise you on the best sponsorship option suited to your specific requirements.
---
Listen to what our DED clients say about us:
Darami Coulter of Sumo Sushi & Bento
Hani Muslmani of Blue Mandarine Restaurant 
 SOME OF OUR OTHER DED CLIENTS